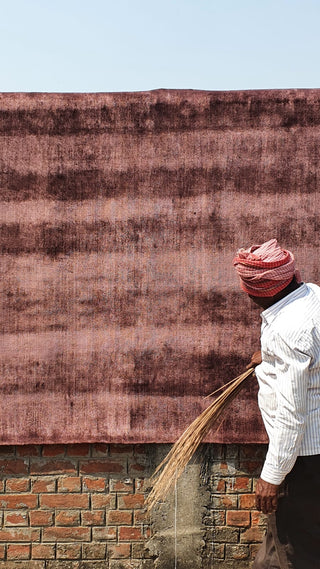 The rug weaving techniques carried by artisans in India today, date back to the 16th Century.
In the State of Uttar Praddesh where our Slow Weave collection has been made, you will find the most talented weavers in the world.
The artisans are proud about their heritage and their ancient expertise. Each rug is delicately and lovingly crafted, providing us with rugs that tell a remarkable story of devotion to craftsmanship that can't be replicated by any machine.
At Rugs For Good, we are passionate about supporting the continuation of these ancient skills by focusing on handcrafted rugs made fairly & ethically.
The rug making process
A peak at how your rug is made.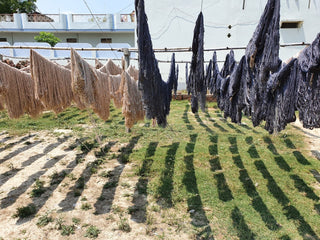 S T E P  1
Dyeing
The dyeing is done by master colour specialists who have refined their skills through generations. Dyeing is done by turning the wool through cauldrons of dye that sit above a wood fire. In large batches, that are processed in a trough with the fibre hung over thick bamboo sticks. It is then dried in the sunshine out in the rural fields of Bhadohi.
STEP 2
Spinning
Wool and viscose are still hand spun using wooden or copper spindles.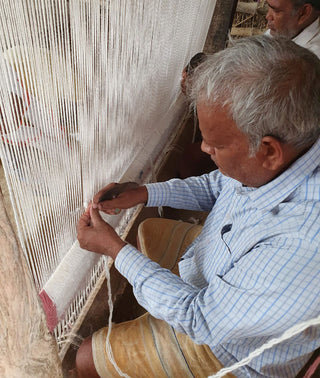 STEP 3
Weaving
Our rugs are hand-knotted, braided or flat-woven. Often, with a few weavers sharing the workload of a single rug. One rug takes approximately 25-30 days to create, with the weaving process being the longest.
Up to three weavers sit side-by-side at the looms, meticulously weaving one single knot at a time with the kind of care and attention that can only come from a sense of pride of their level of craftsmanship.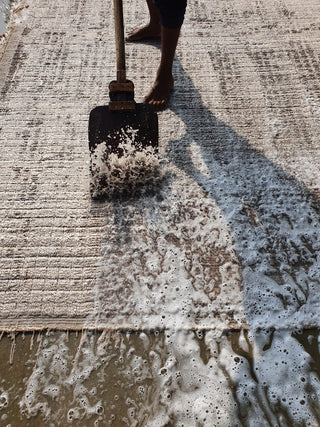 STEP 4
Washing
The washing of one rug can take up to 4 hours. It is done outside with buckets of soapy water and wooden paddles are used to squeeze out the water. It is then combed to remove any loose fibres and is rinsed the same way. It is then hung out to dry in the fields on large bamboo sticks.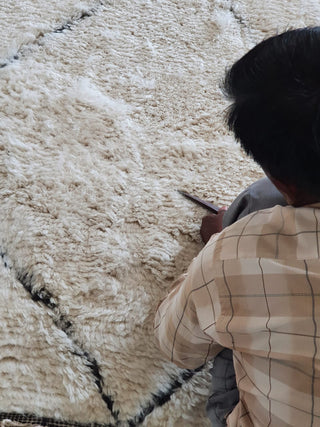 STEP 5
Finishing Touches
This involves stretching, binding, dry washing, trimming and clipping. A manual process that ensures the rug is finished at the highest standards and to promote its durability.
Step 6
Your rug is complete.