Rug Size Guide
Choosing the right sized rug can be a bit tricky, so we have created this rug placement guide to help you out.
Design tip: measure your room and your furniture, as your furniture size is just as important as the room size. Map out your rug dimensions on your floor with painter's tape and a measuring tape. Place your furniture on the rug so that you can see what dimensions will work best in your space and with your furniture.
General Tips
The larger the room, the larger the rug. A larger rug in a larger room will help define a specific area, such as a lounge area or dining area. It grounds the space and creates more cosiness. Smaller rooms often benefit from smaller rugs to make the rooms feel larger.
A non-slip rug underlay will extend the life of your rug, hold it in place and protect your flooring. We believe it's worth the investment.
It is recommended that a rug should leave at least 10-20cm gap between the edge of the rug and the wall, so that there is a visible strip of flooring to help frame the space.
Furniture legs can either sit on or off the rug, there are not hard-set rules and ultimately comes down to personal preference.
These are rug placement guidelines and can be adjusted to suit your unique space and preferences.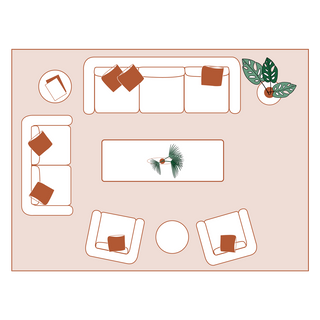 Large Living Room
In a spacious living room, aim to buy a large enough rug to fit all pieces of living room furniture on it. You don't want the furniture to feel cramped, so make sure there is sufficient space between the furniture items.
Recommended: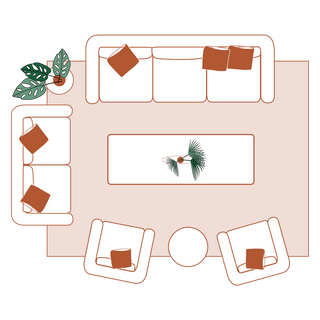 Medium Living Room
In a medium-sized living room you will want a rug that is large enough for at least the front legs of all furniture to sit on the rug. This applies to round rugs in both larger and smaller living rooms.
Recommended: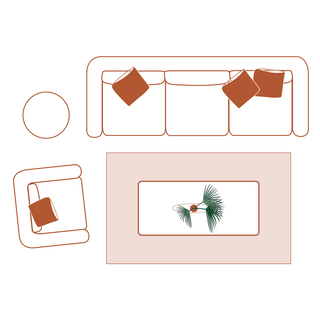 Cosy Living Room
If space is limited and you find a rug you absolutely love, then you can pop it under the coffee table. The preference is to be able to place your feet on the rug when you are seated to provide you with maximum comfort.
Recommended: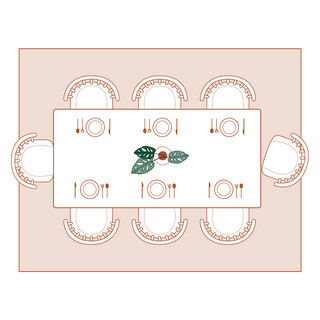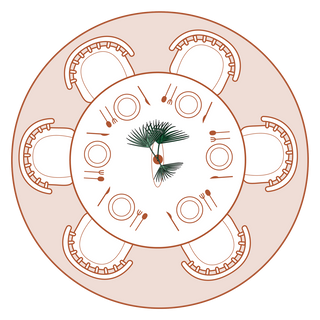 DINING ROOM
Ensure that your dining table and chairs can fully rest on the rug, even when the chairs are fully pulled out. The dining table should have an even border surrounding it, approximately 70-90cm depending on chair size.
Avoid a rug that is too small for the dining table set as this can become a tripping hazard when the chairs get caught on the edges of the rug.
Choose a rug shape that corresponds with the shape of your dining table. A round rug with a round dining table adds beautiful curves that soften a space. The same rug size rules apply to the round table as they do the rectangular or square tables.
Choose a low pile rug for easier clean up and to prevent chairs catching.
Recommended: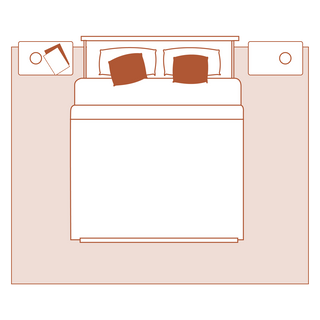 BEDROOM
The rule of thumb is to place rug under approximately 2/3 of the bed. Keep at least 25-30cm between the rug and the front of the bedside tables. The rug should extend at least 50cm out from the sides of the bed to provide a luxurious resting place for your feet when you get in and out of bed.
Leave at least a 10-30cm frame of visible flooring around the rug.
Recommended: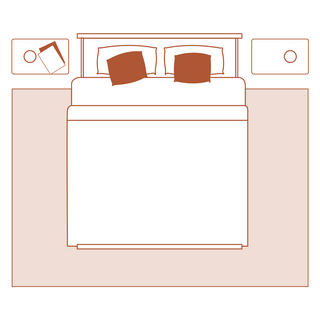 SPACE TO SPREAD OUT
If you have a larger bedroom, then you can choose a large or extra-large rug that will fit all of your bedroom furniture on top of it. This includes the top of the bed and the bedside tables. Leave at least a 10-30cm frame of visible flooring around the rug.
Recommended: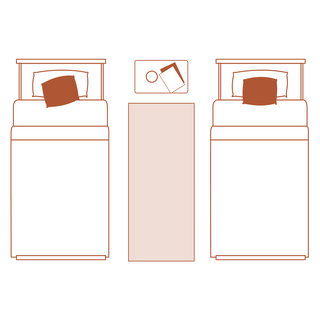 Twin beds or smaller rooms
For a room with 2 single/king single beds or only a small strip of floor, you could place a runner or a small rug in the middle or on the side of the bed.
Alternatively, you can place a runner/smaller rug either side of the bed so that your feet have a comfortable resting place and the room has symmetry. If your bed is in the corner, one smaller to medium size rug on the side or tucked halfway under the bed could work. Of course, it depends on the size of the bedroom.
Recommended: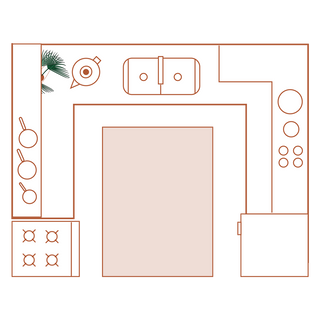 KITCHEN
For a high traffic u-shape kitchen we recommend a small rectangular rug in front of the kitchen sink. Another option is a round rug in the center of the u-shape.
Lower pile rugs made of jute or polypropylene are recommended due to their high level of durability. A non-slip rug underlay will prevent any rug movement that can cause a tripping hazard.
Recommended: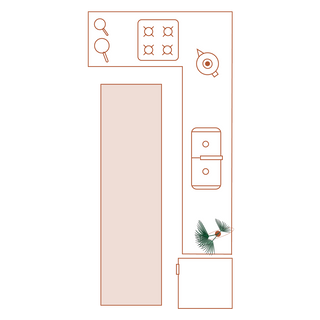 KITCHEN ISLAND
If your kitchen has an island or galley design, then you could consider a runner rug that is close to the same length.
Recommended sizes: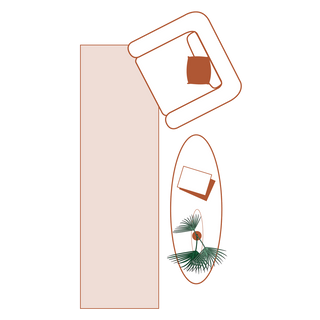 STANDARD HALLWAY
You'll want a runner that is close to the length of the hallway, leaving at least a 10cm frame of visible flooring around the runner. Be sure to check any opening doors will be able to open over the rug pile height.
Recommended: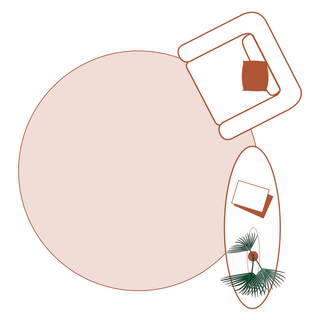 ENTRANCE
Rectangular, round & oval work as entryway rugs. We recommend centering the rug in front of the door, or if a round rug, centering it in the room.
Ensure that the door can clear the rug when opening and closing as you don't want your door catching on the rug.
The rug doesn't need to be directly in front of the door to be purposeful or inviting.
We recommend a non-slip underlay to help hold the rug in place being a high traffic area.
For narrow entryways, a runner rug may work best.
Recommended:
STUDY
A rug large enough for all of your furniture to sit on top will allow better freedom or movement and prevent any furniture feeling unstable or uneven. If you have a chair on rollers, consider a low pile rug for ease of movement or you can place a office chair mat between the rug and your roller chair.
Recommended: